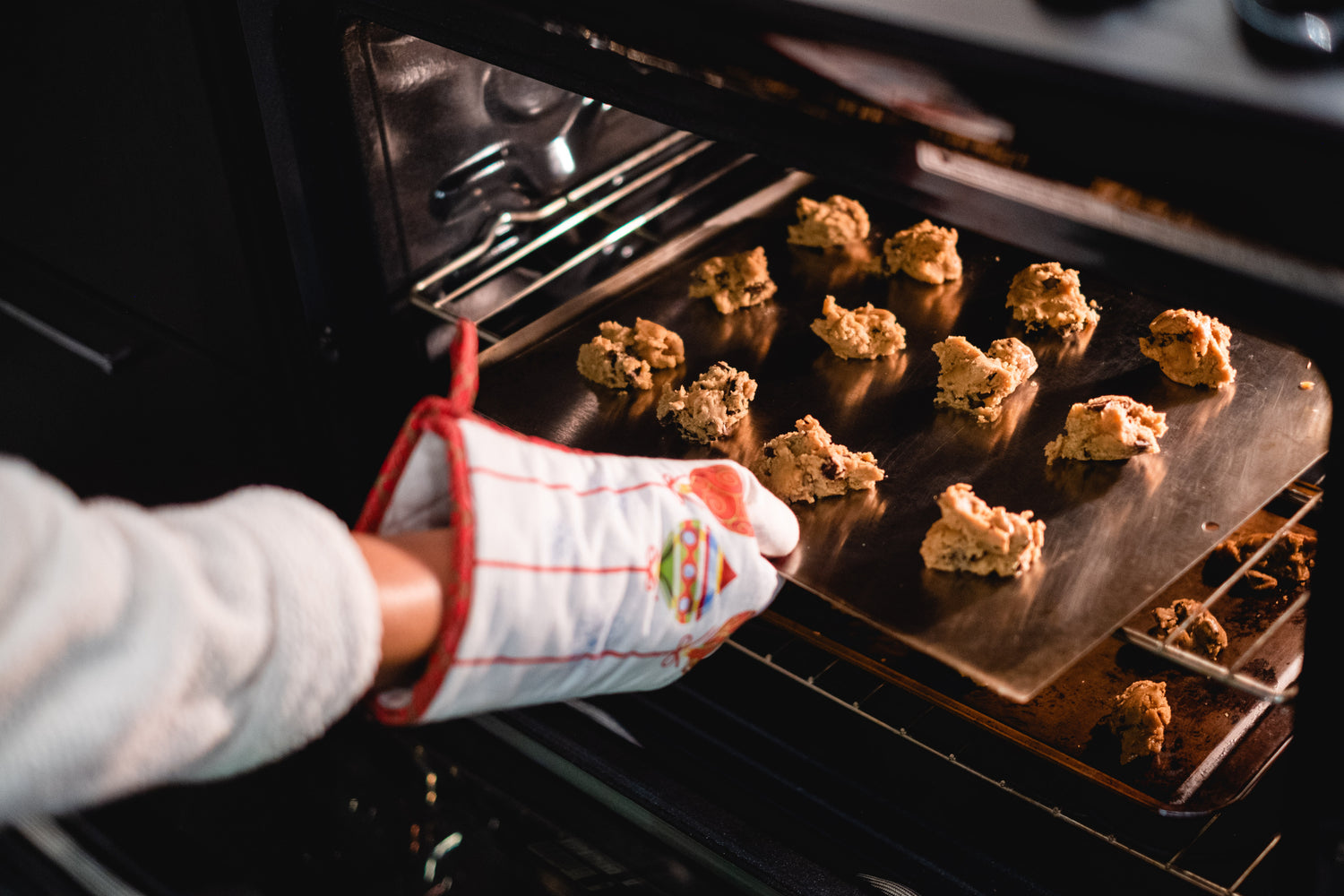 Are you ready to whip up a batch of cookies that will go down in L.A. culinary history?
Join BakeCamp and be crowned the king or queen of the cookie scene! We're on the hunt for local Southern California bakers to unleash their cookie magic and leave a lasting impression on the taste buds of cookie lovers everywhere.
Plus, it's for a great cause! We're raising dough to help pets in need. We teamed up with PawWorks (an LA based animal charity) so every bite of cookie will save puppies lives! Ahhh.
The event includes a friendly competition to crown "L.A.'s Favorite Cookie Baker." Both Pros and Amateur Bakers from SoCal are invited to participate. One trophy per category will be awarded by attendees at each event. In addition, and lucky amateur baker will take home our bonus Grand Prize - the chance to create a "cookie of the month" for TheCravory.com, one of L.A.'s top cookie shop).
DON'T MISS YOUR CHANCE TO BE PART OF LA, COOKIE HISTORY! Three events to participate in and 100+ Bakers have already signed up!
When you sign up, not only will you receive free tickets, we'll help with ingredients to help keep your participation costs down and you can earn recognition from the community.
Let's make the world a sweeter place, one cookie at a time!
Participating is FREE, but space is LIMITED. Sign up today!
BAKER SIGNUP FORM
Don't miss your opportunity to become a baking legend.
CALLING ALL PRO BAKERS

Imagine 1000 cookie enthusiasts in one spot and three exciting events to choose from. Not only will you showcase your cookies to thousands of cookie fans, meet our judges, reach a wider audience, make a lasting impact on LA's cookie community (and maybe be crowned L.A.'s Best Cookie Baker), you'll help save adorable puppies! And the best part... it's FREE to participate. No cookie booth fee! 🍪 🐾🐶 

All bakers will get featured on our Meet the Bakers Blog and promoted on our social channels. Space is limited.

SIGN UP TODAY

AMATEUR BAKERS - BE PART OF THE FUN

Join us for an unforgettable sweet experience! Show off your creativity, baking skills, and delicious flavors to a panel of expert judges. Meet hundreds of cookie lovers. Take home a prestigious BakeCamp trophy and get the chance of a lifetime - a cookie collab with TheCravory.com and a chance to create a "Cookie of the Month".

SIGN UP TODAY
Become a part of something truly special.
Not only will you get to indulge in your love for baking and creating delicious treats, but you'll also be making a positive impact on the world. Every ticket sold will help PAW WORKS, a local animal charity that works tirelessly to improve the lives of animals in need.
From providing medical care and shelter to animals in need, to advocating for their rights and well-being, PAW WORKS plays a vital role in making the world a better place for all creatures. By joining us, you'll not only be helping to support these important causes, but you'll also be spreading awareness and inspiring others to do the same.
So, let's make a sweet impact together. Join us today and help us make a difference in the lives of animals in need.
SIGN UP TO BAKE
Benefits for bakers...
Be Crowned "L.A.'s Favorite Cookie Baker"

Three chances to win a trophy and bragging rights! Each event will help crown one pro and one amateur baker "LA's Favorite Baker". Trophies will be handed out at each event. PLUS, one amateur baker will get the prize of a lifetime. The opportunity to collaborate with TheCravory.com to create a "Cookie of the Month" that will be sold on their online store.

Ingredients? We've got you covered!

Each baker will be invited to use ingredients from our sponsors. However, all other ingredients (or ones beyond basic that we can buy in bulk) you will be responsible for. We are gathering our sponsored ingredients now. Stay tuned! If you'd like to sponsor an ingredient, let us know!

FYI - WE HAVE CLOSED THE HOLLYWOOD INGREDIENT REQUEST LIST.

SEE FAQ

Tasting Tickets for You + Cookie Helper

Each baker can bring a helper to pass out cookies. Both of you will get free cookie tasting tickets.

Meet Hundreds of L.A. Cookie Fans

During each tasting, you'll meet hundreds and hundreds of cookie fans. Meet other bakers. Share your story!

Be Part of Cookie History

Your recipe can be featured in our commemorative BakeSpace.com cookie cookbook featuring recipes (and thier stories) from the event.

Be cool! It's for a great cause!

By participating in this event, you'll be supporting a good cause and helping to raise funds for Paw Works. So not only will you be showing off your baking skills, but you'll also be making a positive impact on the world.
How BakeCamp Works
It's a Cookie Celebration!

During the month of October (and to celebrate "National Cookie Month") we will be hosting three BakeCamps -- one in Hollywood (Oct 7), Pacific Palisades (Oct 14) & San Fernando Valley (Oct 22).

***

Help get the word out! Check out our Baker Social Tools!

It's Free to Participate

Every baker will be given one FREE table to pass out cookies and compete in our cookie contest. We'll also make a blog post about our participation. You may want to consider only baking one cookie per event -- it's just easier! But if you're baking at more than one event, we'll promote all your cookie flavors on the same blog post.

Fun for Everyone

Each day-long event will be comprised of three tastings (2 hours long). This will help us keep our lines down and our attendees happy. You'll be able to reset your table after each tasting, eat something, take a break, etc. You may bring one cookie helper with you.

Keeping Things Safe

All cookies must be baked before the event, but you may finish off your cookies at our table. Cookies should be wrapped individually. It's also a great way to brand your cookies -- for this instagram photos!

It's a Day Long Event

Each BakeCamp lasts from 10am-6pm. Bakers can arrive up to 2 hours before the event to set up their table. You'll be told before the event how many attendees we plan for each tasting -- so that you can divide your cookies up so you don't run out early.

You'll Meet L.A.'s Biggest Cookie Fans

Attendees pre-pay for cookie tasting tickets and will get to pick what cookies they'd like to try in exchange or their tasting tickets. This is their charity donation. Attendees will be invited to share their experiences on social media and tell all their friends about your fabulous cookies!

Take Home a Trophy

Attendees will vote for their favorite favorite baker (one winner in each category -- Pro and AmateurᅠBakers -- at each event) by giving their favorite baker their vote token. Two trophies will be passed out at each event.

Win the Prize of a Lifetime

Once all three events are done, the three winners in ourᅠ"Amateur Baker Category" will have their cookies tasted by our esteemedᅠjudges and they will vote for their favorite. The Grand Prize Winner will get the opportunity to create a "Cookie of the Month" for TheCravory.com.

Together we'll make a difference!

Since this is a charity event, bakers aren't permitted to sell cookies at their table, but you a free to promote your brand and pass out biz cards/postcards, etc. From ticket sales, we will be donating to L.A. based Paw Works (our goal is to raise $15k).