Hey Cookie Bakers!
Help us get the word out about BakeCamp to your friends & family!
Scroll down for more images!
Sample Social Media Posts
Below you'll find sample social media posts, an email to send to friends and family & banners you can use anytime. Whenever you post, please tag @BakeSpace & #BakeCamp so we can reshare! To save photos, right click to save or drag to your desktop.
A Sweet Invite

🍪 Exciting Cookie News! 🎉 Join me at #BakeCamp this October for a deliciously fun and heartwarming cookie-tasting party! 🐾 Let's celebrate National Cookie Month while making a positive impact for pets in need. I'll be baking my fave recipe, and I'd be thrilled if you could join me. Let's enjoy scrumptious treats, meet fellow cookie enthusiasts, and support a pawsitively wonderful cause. 🐶 http://bakecamp.org #BakeCampLA #CookiesForACause

For the Cookie Adventurer

🐾 Embark on a cookie adventure like no other at #BakeCamp LA! Discover LA's hidden cookie gems as you tour tables filled with cookies mouthwatering delights. Get ready to satisfy your sweet tooth and explore the best cookies in #losangeles under one roof. http://bakecamp.org #LAcookieTour

Cookies for a Cause

🐾 Baking with heart! Join us at #BakeCamp LA this October, where every delicious cookie baked helps animals in need. Indulge in cookies that care, and be part of a sweet journey that supports a noble cause. Let's make a difference one cookie at a time! http://bakecamp.org #CookiesForACause #BakingForGood

For the Animal Lovers

🍪🐾 Get ready to satisfy your sweet tooth and support a paw-some cause! Join us at #BakeCamp this October as we bake up a storm to raise funds for @PawWorks. 50 bakers, endless cookie fun, all for furry friends in need. Let's make a difference one cookie at a time! 🐶❤️🐱 http://bakecamp.org #BakeForPaws #CookieLoversUnite 🌟🐾

For the Competitive Cookie

🥇🍪 Who will claim the title of LA's best cookie? Join the thrill at #BakeCamp and experience the ultimate cookie contest! Taste, vote, and witness the culinary clash of titans. Don't miss out on this epic cookie battle! Come vote for me! http://bakecamp.org #CookieShowdownLA

LA's Cookie Renaissance

🍪 Experience the cookie renaissance in the heart of LA at #BakeCampLA! 🍪 Join us as we take you on a journey through time, celebrating the revival of cookies and bakeries in our city. From vintage favorites to modern delights, this is LA's cookie scene like never before. http://bakecamp.org #LAcookieRenaissance

For the Ultimate Cookie Fan

🍪 Get ready to experience the ultimate cookie extravaganza at #BakeCamp LA! Join us this October as we celebrate LA's diverse cookie culture with the best bakeries under one roof. Get ready to indulge in mouthwatering creations that define the city's cookie scene.http://bakecamp.org #LAcookieCulture

Perfect Family Day

👨‍👩‍👧‍👦 Family fun meets cookie magic at #BakeCamp #LA! This October, bring your loved ones for a day of sweetness, laughter, and memories. Watch kids enjoy delicious treats and create lasting moments together. Join us for a family baking day like no other! http://bakecamp.org #FamilyBakingDay"
Sample Letter to Invite Friends & Family to BakeCamp L.A.
Hey there,

I've got some exciting cookie news to share that I think you'll absolutely love. I've signed up for BakeCamp this October, a really fun, family-friendly cookie-tasting party that's all about celebrating National Cookie Month while making a positive impact for pets in need. I'll be participating by baking my favorite cookie recipe and here's where you come in – I would be over the moon if you could come and enjoy the event with me.

BakeCamp is shaping up to be a fantastic gathering of the best bakers in town (view bakers). Not only will you get to taste the most scrumptious cookies Los Angeles has to offer and meet fellow cookie fans, but there's also an exciting cookie contest happening. One lucky baker (hopefully me!) will take home the coveted title of "L.A.'s Favorite Cookie Baker." With your support, I'm hoping to take home that crown and the bragging rights that come with it!
And amidst all the deliciousness, we'll also have the opportunity to hang out with adorable Paw Works Puppies that we're supporting through this event. It's truly a win-win situation – we get to have a blast, eat some amazing cookies, and contribute to a wonderful cause at the same time. 
Your presence would mean the world to me, and I know we'd have an absolute blast together at BakeCamp! So, what do you say? Are you in for a day filled with mouthwatering cookies, great company, and a shared commitment to helping animals in need? Let's make this BakeCamp unforgettable together!

Mark your calendar!

Event: BakeCamp LA
Date: Three events in this October 
Sat., Oct 7: Hollywood @ First Presbyterian Church
Sat., Oct 14: Pacific Palisades @ Pacific Palisades Woman's Club
Sun., Oct 22: San Fernando Valley @ Valley Relics Museum 
Quick links:

Please let me know if you can make it or if you have any questions. Looking forward to seeing you at BakeCamp L.A.!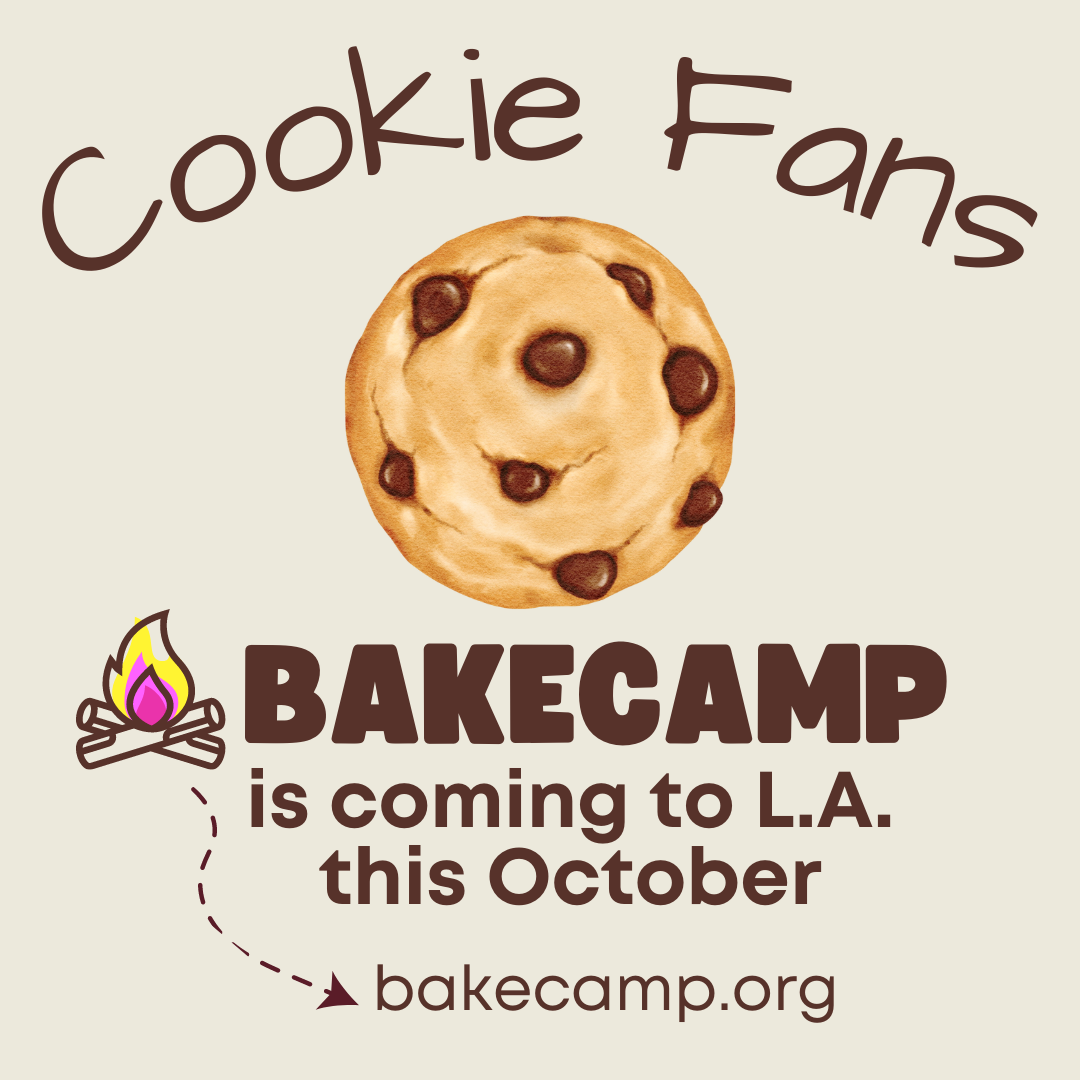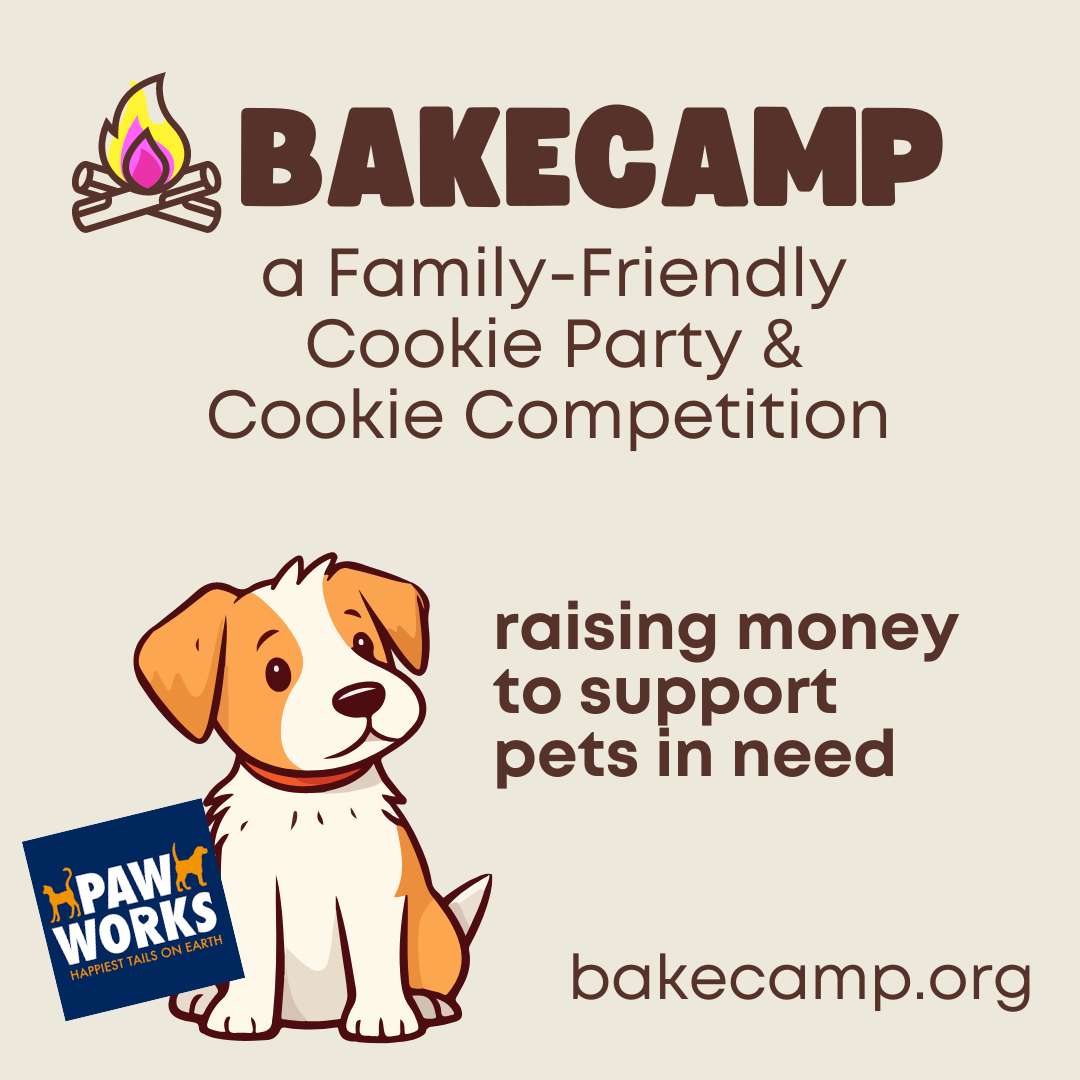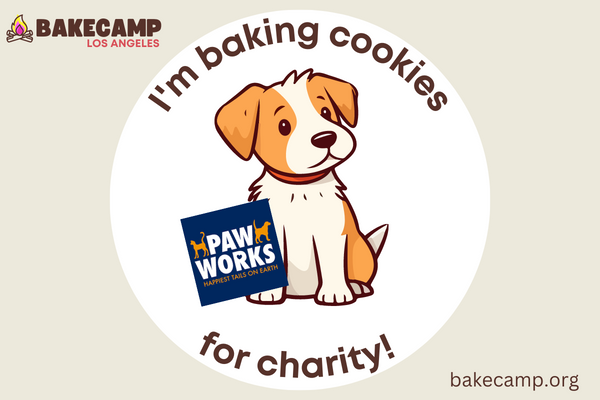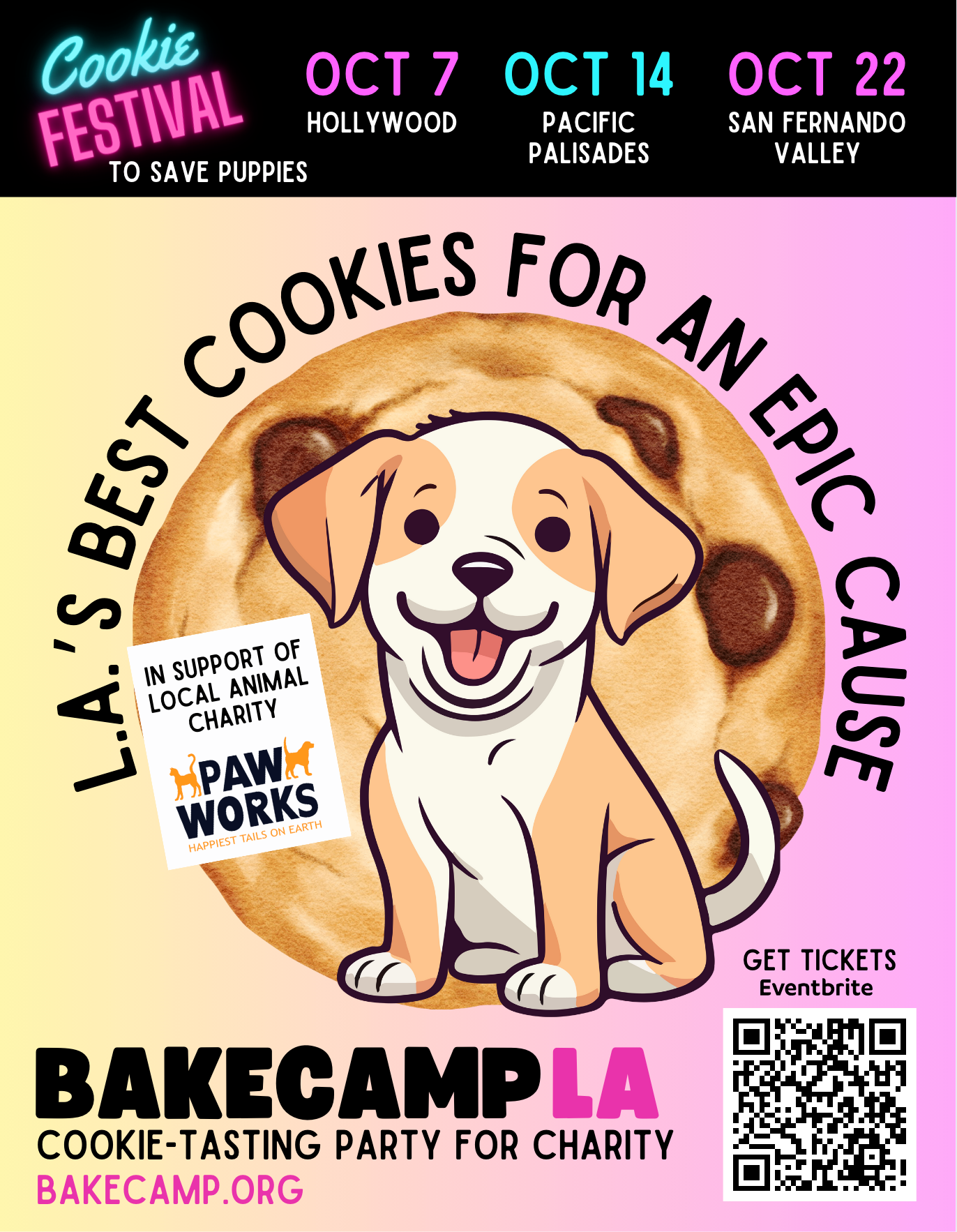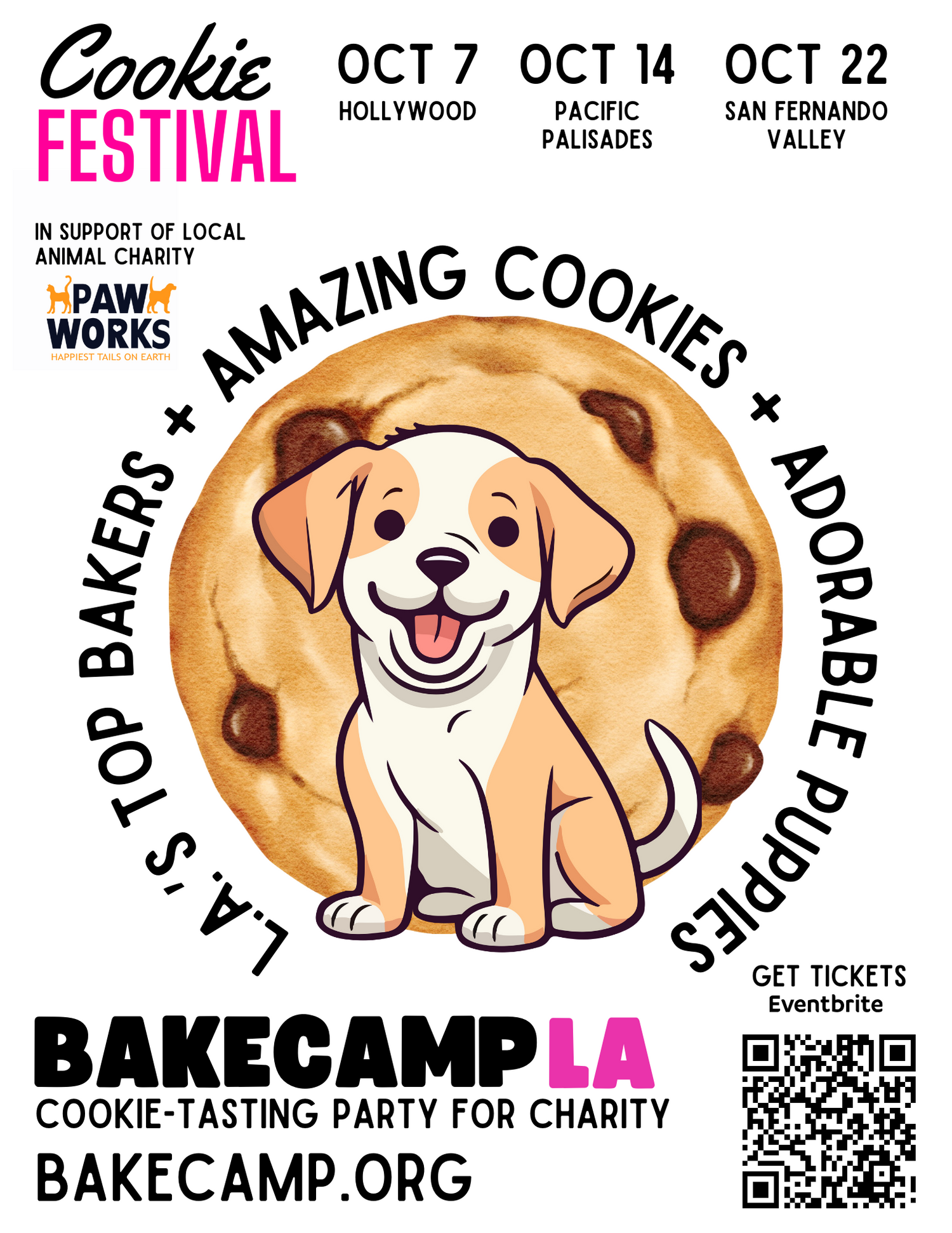 Our Instagram Feed... for easy sharing!